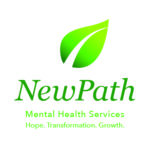 Website New Path Mental Health Services
Join us as a mental health professional, full-time or part-time, in our highly collaborative, supportive work environment.  NewPath supports a hybrid model of service to clients, via telehealth and in-person appointments.  We strive to offer an environment that balances accountability with flexibility, as our staff and clients navigate the challenges that the pandemic brings.
At NewPath, a Christian founded non-profit, multi-disciplinary mental health agency, we enjoy a zest, energy, and belief in what we do, utilizing our professional training, and the gifts with which we are blessed, to walk alongside our clients on paths of hope, transformation, and growth.   The spirituality and faith-life of our clients and our staff are valued, yet not imposed.  We meet our clients where they are and incorporate faith components only as requested by our clients.
NewPath Mental Health Services has been offering a specialty outpatient program for the treatment of those who have sexually offended, called Restoration Project, since 1995.  Job candidates who are wishing to build or utilize skills as part of our sex offender treatment program are strongly encouraged to apply.  Here not only will you have the opportunity to practice in the challenging and rewarding niche of sex offender treatment, working with a team of knowledgeable, experienced therapists, but provide general mental health services to the community as well.
As a therapist at NewPath, you will build and maintain a caseload of clients with a variety of presenting concerns including, but not limited to, mood disorders, personality disorders, and relationship concerns.  In the treatment of those who have sexually offended, we typically serve clients who are referred due to court order.  Clients have an individual therapist and also participate in group therapy with others in the program.
Ideal candidate:
Licensed (LICSW, LMFT, LPCC, LP) in the state of Minnesota. Mental health practitioners working toward licensure may also apply.
If not licensed, must have completed graduate degree in psychology, social work, marriage and family therapy, or mental health counseling and be eligible to work toward licensure.  We welcome those committed to developing into licensed mental health professionals.
Interest in serving those who have sexually offended or who are experiencing problematic sexual behaviors is desirable.
Enthusiasm for clients who may seek to incorporate their faith into psychotherapy.
Diverse candidates are encouraged to apply.
NewPath offers:
Competitive pay, based upon licensure level and experience.  Licensed full-time may expect to earn between $60-$80,000 annually and unlicensed between $48-$58,000.
Health benefits for full-time staff.
Free supervision toward licensure.
A positive, encouraging, and collaborative team environment in which therapists support one another, consult freely, and enjoy learning different clinical approaches.
Experienced, efficient and professional administrative team (responsible for scheduling clients, coordinating intake paperwork, and conducting administrative tasks).
Comfortable and welcoming office space (offices are spacious and many with windows, ample free parking) and office environment.
Reliable technology, whether working from home or office.
Excellent billing team (NewPath administrative staff completes all billing including credentialing process with insurance, submitting claims, and collecting payments).
Dynamic monthly continuing education seminars presented by staff and guest speakers.
Bi-monthly case consultation meetings with multidisciplinary staff.
NewPath is located in Golden Valley, MN. Please visit our website at https://www.newpathmhs.com to learn more about NewPath.
Please send your resume or CV and a cover letter, discussing your clinical interests and experience and how these are a match for NewPath, to Clinical Director Dr. Jennifer Hovey at jhovey@newpathmhs.com.