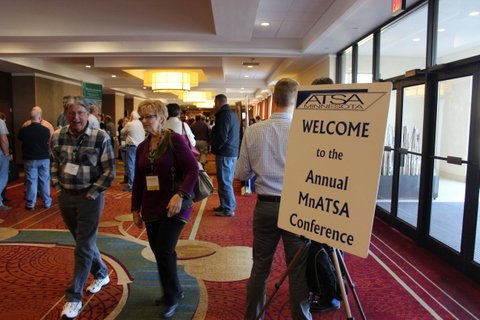 24th Annual MnATSA Conference
The 24th annual MnATSA conference will be held April 21-23, 2021.
Registration Open Now!​
MnATSA has held a successful annual conferences every year since 1997.  This year is no different – even though we have had to turn to Whova, a virtual conference application.  Whova is user-friendly and facilitates easy access to sessions.  Whova also encourages interactions with other attendees, speakers, and exhibitors.  While your 2021 conference experience will be different, it is our hope that the conference will simulate the live, interactive, and fun conferences that you have come to expect from MnATSA.
The conference planning committee is using Whova to its fullest capacity by developing social communities, gamification, interactive breaks, opportunities to chat with speakers during their pre-recorded sessions and more!  The MnATSA 2021 Conference promises to be one of the best online conferences you have ever attended!  Don't believe us?  Register, attend, and prove us wrong!
In the past, MnATSA has had amazing keynote speakers such as Kevin Creeden, Pamela Yates, Stephen Wormith, Elizabeth Letourneau, Ogi Ogas, Jackson Katz, Cordelia Anderson, Bill Marshall, Michael Miner, Lawrence Ellerby, Joan Tabachnick, Jill Levenson, Patty Wetterling, Liam Marshall, Janis Wolak and David Finkelhor.
This year will be no different…come hear the 2021 Keynote Speakers:
James Wadley, Ph.D.
(Documentary:  Raw to Reel:  Race, Drugs, & Sex in Trenton, NJ)
Emily Baxter, J.D.
(Author: We are All Criminals)
Luke Malone
(Journalist: You're 16. You're a Pedophile)
Plus….hear speakers on topics such as:
Static-99R Training

(Brian Heinsohn)

Adolescent Sexual Misconduct

 

(Jon Brandt)

Autism and Sex Offending

(Kimberly Spence & Eric Imhof)

Dysregulation & Disconnection

(Ryan Van Wyk)

Self-Care for Stress Resiliency

(Patty Hlava)

Sexual Health, Consent, & Pleasure

(Laura Rademacher)

Gaming and Sexual Offending

(Steve Kuniak & David Delmonico)

LGBTQ and Sexual Offenses

(Charles Samenow)
Think you'll miss the Exhibitor Hall?  You won't!  We will have exhibitors with free giveaways, raffle entries, video demonstrations, and opportunities for interactions.  We know it's not free Hershey Kisses, but think of the calories you'll save!
But what if I get lost with all the things to do?  Have technical difficulty?  Can't find the bathroom?  Dont' worry MnATSA Central will be available throughout the conference.  A one-stop question and answer area where you can ask questions and get information about the conference.  We've thought of everything and have you covered!
Meet your Conference Planning Committee.  These are the people you will want to thank for the amazing experience you will have at the 2021 MnATSA Virtual Conference:
| | |
| --- | --- |
| Mindy Malm (Chair) | Elizabeth Griffin (Co-Chair) |
| Ronda Disch | Heidi Freeman |
| Angela Kroening Johnson | Rosemary Munns |
| Halie Rostberg | Traci Thomas Card |
| Don Slinger | Jeri Slinger |
| Brenda Todd-Bense | Doug Williams |
It's time to sit back, relax, and learn at the best virtual conference of the year…
MnATSA 2021!!!!!
Registration  (Not compatible with Internet explorer)